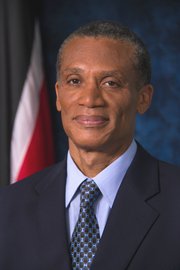 Senator The Honourable Dennis Moses
Prior to being sworn in on Sepember, 2015 as Minister of Foreign and CARICOM Affairs of the Republic of Trinidad and Tobago, Senator the Honourable Dennis Moses assumed duties as Representative of the OAS General Secretariat in the Commonwealth of Dominica in January 2014 after having served as Representative of the OAS General Secretariat in Guyana for eleven years. Prior to his tenure at the OAS Minister Moses served in Barbados as the Deputy Representative of the Inter -American Institute for Cooperation on Agriculture (IICA) and in other capacities in other countries for a total period of six years.
In 1990 Minister Moses joined CAB International at its headquarters in the United Kingdom. He later moved to Trinidad and Tobago as the Regional Representative of CAB International for the Caribbean and Latin America based in Trinidad and Tobago.
Senator the Honourable Dennis Moses also worked, as a career diplomat, at the Ministry of Foreign Affairs of Trinidad and Tobago during the period 1980 to 1990 at the Headquarters of the Ministry and at the Embassy of Trinidad and Tobago in Belgium.
He studied at the University of the West Indies in Trinidad and Tobago (1972 to 1975) and at the Universidad de Costa Rica - Centro Agronómico Tropical de Investigación y Enseñanza (UCR-CATIE) from 1977 to 1979 in Costa Rica obtaining a BSc. degree in Agriculture, a MSc. Degree in Agronomy and a post graduate Diploma in International Affairs (1981-1982).
Minister Moses is fluent in French and Spanish, is married and has two children.