Joint Communique Trinidad and Tobago –Spain on the occasion of the 50th Anniversary of the Establishment of Diplomatic Relations
13 July 2017
PORT OF SPAIN: 13TH JULY, 2017  

On the occasion of the 50th Anniversary of the establishment of diplomatic relations between the Republic of Trinidad and Tobago and Spain, Minister of Foreign and CARICOM Affairs, Senator the Honourable Dennis Moses met on Wednesday 12th July, 2017 in Port of Spain with the Spanish Secretary of State for International Cooperation and Latin America (Ministry of Foreign Affairs and International Cooperation), His Excellency Mr. Fernando Garcia Casas. 
The visit by the Spanish Secretary of State to Trinidad and Tobago serves as testimony of the excellent relations enjoyed by our respective countries, and is also a demonstration of the willingness and determination of both countries to broaden the spectrum of common endeavours. Trinidad and Tobago and Spain promote shared values and principles that include the protection of and respect for human rights, advancement of sustainable development goals, adoption of policies and practices to address matters relating to climate change, terrorism and organized crime among others. 

Both countries expressed their will to strengthen their cooperation bilaterally, regionally and at international fora, in order to more effectively contribute to creating global solutions for global challenges.
Also raised during the Spanish Secretary of State's visit to Trinidad and Tobago were matters relating to Spanish investment in Trinidad and Tobago, joint cooperation in the field of tourism, political  dialogue  between  both  countries, the  possibilities to  further deepen economic and trade  relations, as well as our countries' interest in actively collaborating on cultural issues and people-topeople programmes.  A Memorandum of Understanding on Cooperation in Cultural Affairs is receiving active consideration.
Representatives from the commercial sectors of both countries attended the "Second Trinidad and Tobago-Spain Partnership Forum" where they analysed possible joint ventures as well as ways to enhance investment and trade.
Additionally, in support of and in contribution to the efforts of the Government of Trinidad and Tobago to promote exposure to and the use of Spanish as a foreign language, a cultural event was hosted at the National Library (NALIS) in Port of Spain today, Thursday 13th July, 2017, where a collection of Spanish language texts was donated to the institution.
As relevant actors in their respective geographical areas, Trinidad and Tobago and Spain are ready to help forge the necessary consensus within the international community to provide a reasonable, humanitarian, long-lasting and sound response to the major issues of the 21st century.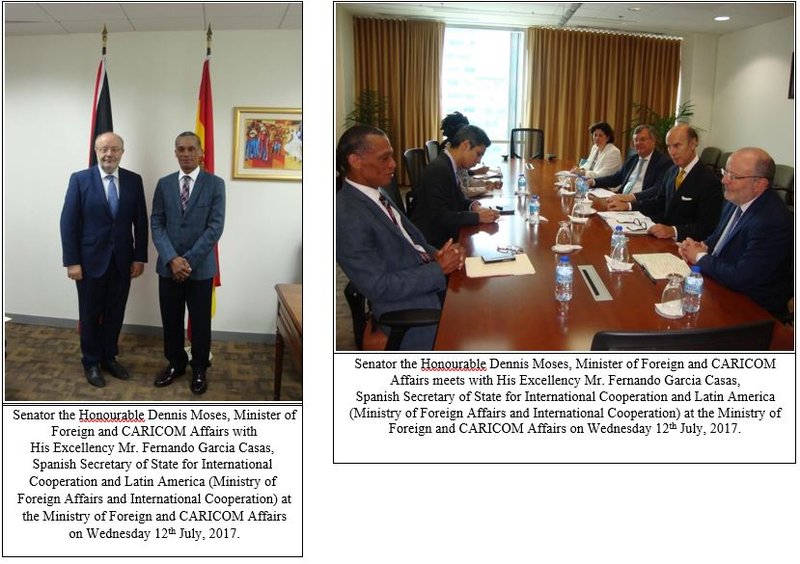 Ministry of Foreign and CARICOM Affairs 

Click here to read official media release here- Final Joint Comuniqué SECIPI's visit