Minister Moses bids farewell to His Excellency Fernando Schmidt Ariztía, Ambassador of Chile.
8 May 2018
PORT OF SPAIN: 8TH MAY, 2018
Senator the Honourable Dennis Moses, Minister of Foreign and CARICOM Affairs expressed his deep appreciation to His Excellency Fernando Schmidt Ariztía, outgoing Ambassador of Chile for the contribution he made during his tenure in Trinidad and Tobago. These sentiments were expressed during a farewell Courtesy Call by Ambassador Schmidt on 1st May, 2018 at the Ministry's headquarters.

Reflecting on his tenure, Ambassador Schmidt stated that he was very grateful to have served in Trinidad and Tobago for a period of almost four years and took the opportunity to highlight some of the achievements of his Mission, which included: the Official Visit of Dr. the Honourable Keith Rowley, Prime Minister of the Republic of Trinidad and Tobago to Chile in May 2017 during which two Agreements were signed; a Joint Declaration and a Memorandum of Understanding in respect of Intellectual Property.
The meeting ended cordially with Minister Moses wishing Ambassador Schmidt all the best in his future endeavours.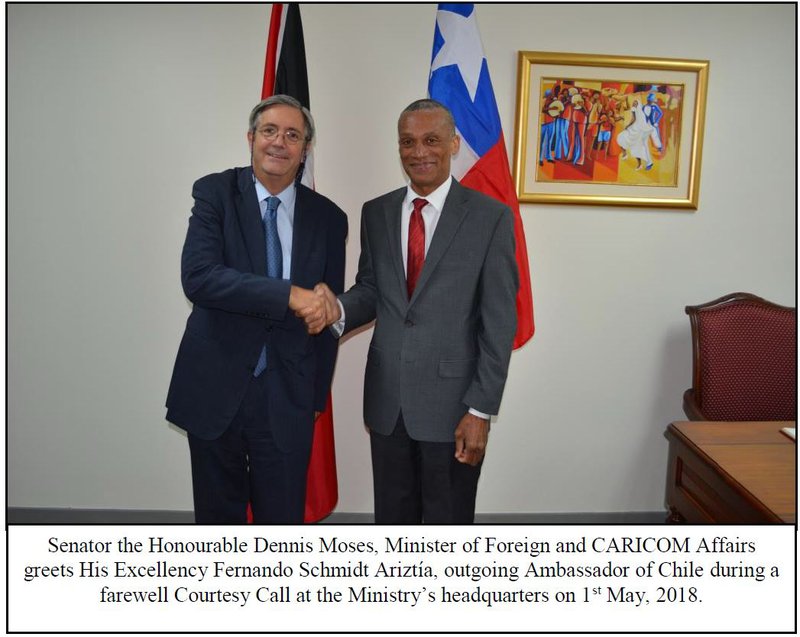 Ministry of Foreign and CARICOM Affairs

Click to view official media release-Chile Farewell Courtesy Call