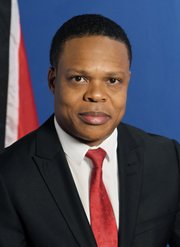 Senator The Honourable Dr. Amery Browne
Dr. Amery Browne was first elected to the House of Representatives in 2007 as the Member for Diego Martin Central. He was appointed Minister of Social Development in November of 2007. Dr. Browne would contest and win the seat a second time in May 2010, serving until 2015.
In 2020 Dr. Browne was appointed to the Senate and held the portfolio of Minister of Foreign and CARICOM Affairs.
Dr. Browne is a medical doctor.