High Commission in Ottawa, Canada
---
About Us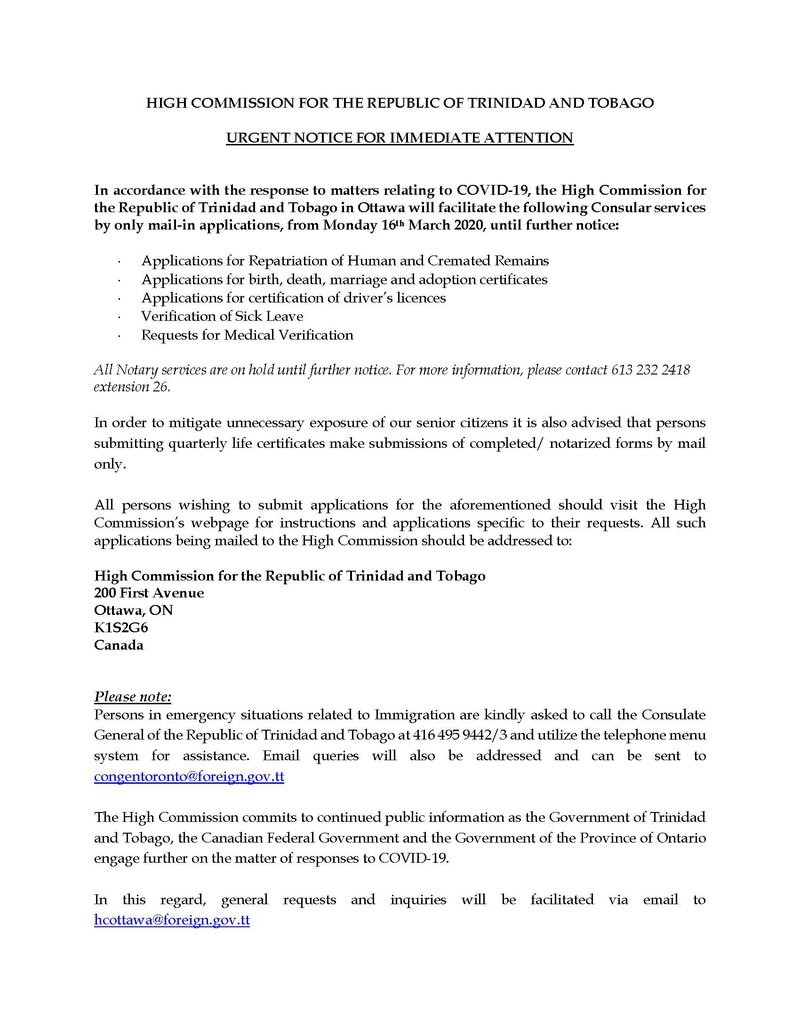 REGISTRATION SYSTEM FOR NATIONALS ABROAD (RSNA)
The Registration System for Nationals Abroad (RSNA) is a free service provided by the Ministry of Foreign and CARICOM Affairs for Trinidad and Tobago nationals travelling overseas or living outside of Trinidad and Tobago. The details you provide when you register will help our embassy and crisis staff to contact you and provide better assistance in an emergency such as a natural or man-made disaster or civil disturbance.
Trinidad and Tobago nationals travelling or residing abroad should register at the nearest Trinidad and Tobago Overseas Mission, particularly in countries with a risk of natural disasters or which are undergoing a period of unrest. The purpose of this register is to enable the Mission to identify and locate nationals in cases of emergency as well as provide assistance for nationals in situations of need. 
Given the current operations of the High Commission, nationals are urged to register via the website link register.foreign.gov.tt
---
The High Commission for the Republic of Trinidad and Tobago based in Ottawa, Canada's Federal Capital has the responsibility in Canada for the conduct of the relations between the Government of the Republic of Trinidad and Tobago and the Government of Canada. The High Commission is headed by a High Commissioner who is the official representative of the President of the Republic of Trinidad and Tobago to Canada, and is appointed by the President on the advice of the Prime Minister and Head of Government.
The High Commission promotes and protects Trinidad and Tobago's national and foreign policy interests, particularly its foreign trade, investment and tourism interests throughout Canada. In this regard, the High Commission is directly responsible to the Ministry of Foreign Affairs in Port of Spain and through it, to the Government.
The High Commission also provides services on behalf of the Ministry of National Security (Immigration)and the Registrar General's Department of the Ministry of Legal Affairs, through the provision of application forms and the issuance of visas, notarial (birth, marriage death etc.) certificates/services and statutory documents. Substantive immigration matters such as the issuance of Passports and restoration of citizenship are handled at the Consulate General in Toronto.
The High Commission also responds to general information enquiries about Trinidad and Tobago, or refers such enquiries to the relevant Ministry or agency in Trinidad and Tobago when more detailed information is required.
---
Guidelines and forms for applications and renewals
Please select a form based on your requirement:
Visas
Visa Application Form
Visa Requirements for All Countries
PASSPORT and TRAVEL DOCUMENTS
*Please note that passport collection is scheduled from Monday to Friday between the hours of 1pm-3pm*
Instructions:
1. Print the forms using an 8 1/2" x 14" setting and print on Legal size (8 1/2" x 14") paper
2. Print on both sides of the paper

Adult passport application form ( MRP) (1st time applicant)
Child passport application form ( MRP) (1st time and  renewal)
MRP Instructions applicable to child and adult
Adult MRP renewal application form
MRP Renewal and Collection Instructions
Lost/ Mutilated passport application
Certificates
Instructions - Application Form - Authorization Form - Adoption Certificate
Instructions - Application Form - Authorization Form - Birth Certificate
Instructions - Application Form - Authorization Form - Death Certificate
Instructions - Application Form - Authorization Form - Divorce Decree
Instructions - Application Form - Authorization Form - Marriage Certificate
Instructions - Application Form - Police Certificate of Character
Application Form for the Certificate of TT Driver's Licence

Letter of Authorisation to place an Apostille Stamp on a Certificate
Restoration of Citizenship
Medical Certificate
Physical Examination of the Applicant
Application for Restoration of Citizenship

Repatriation of Human Remains
Instructions for Repatriation of Human Remains
Emergency Certificates
Application Form for TT Emergency Travel Document
Emergency Travel Document (Instructions and General Info)
General
List of Fees
Registration Form for Nationals
Application Form for TT Emergency Travel Document
Emergency Travel Document (Instructions and General Info)
Application for Restoration of Citizenship
Application for Import Permit to Import Dogs and Cats into TT
Pensioners Life Certificate
---
Vacancy Notice
---
Contact Information
High Commission of the Republic of Trinidad and Tobago, Ottawa, Canada
His Excellency Dennis Moses
High Commissioner for the Republic of Trinidad and Tobago to Canada
Address: 200 First Avenue
Ottawa, Ontario
Canada K1S 2G6
Country: Canada
Phone: 1-613-232-2418/9
Fax: 1-613-232-4349
Email: hcottawa@foreign.gov.tt
Website: http://foreign.gov.tt/hcottawa
COVID-19 Work Related Adjustments:
• The Mission is closed to the public; 
• The current working hours at the Chancery are from 9:30 a.m.  to 4:00 p.m. daily; 
• Consular matters are being serviced by mail; 
• Mission's contact: 1-613-232-2418 Ex 25; 
• Email: hcottawa@foreign.gov.tt
---
Travelling to Canada
Please review the information found in the links below before travelling