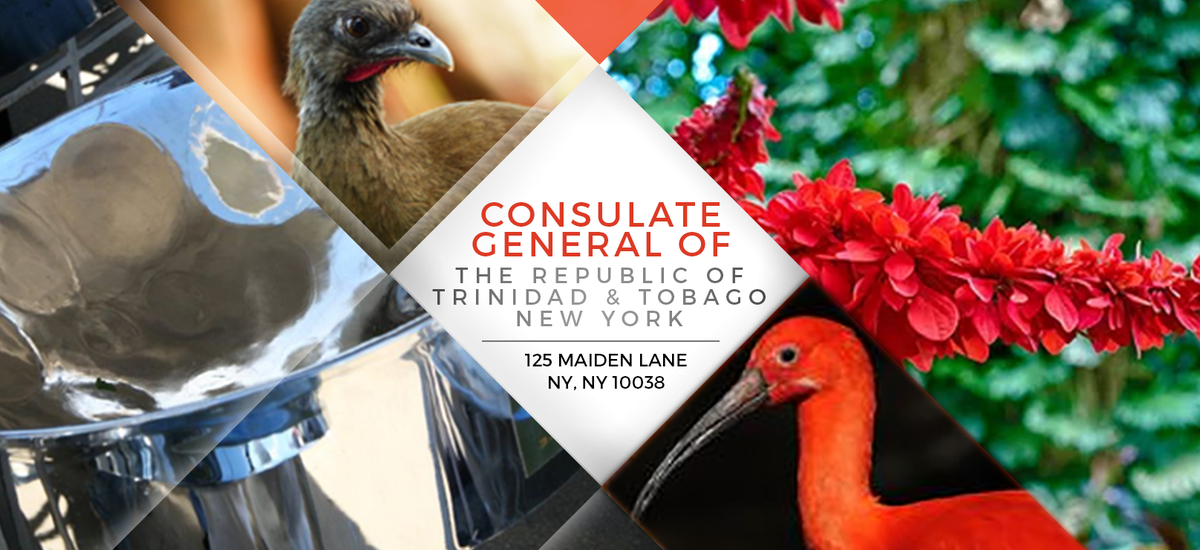 Consulate General in New York, U.S.A.
---
About Us
ANNOUNCEMENTS
---
DEADLINE FOR SUBMISSION OF APPLICATIONS FOR HUMANITARIAN ASSISTANCE
Trinidad and Tobago nationals who are stranded in the USA as a result of the COVID 19 pandemic and are located in any of the states within the Consulate General's jurisdiction, and wish to apply for the Humanitarian Assistance offered by the Government of Trinidad and Tobago are asked to note that Sunday, September 20, 2020, is the deadline for submission of applications.  Applications submitted after this date will not be able to be given attention.
---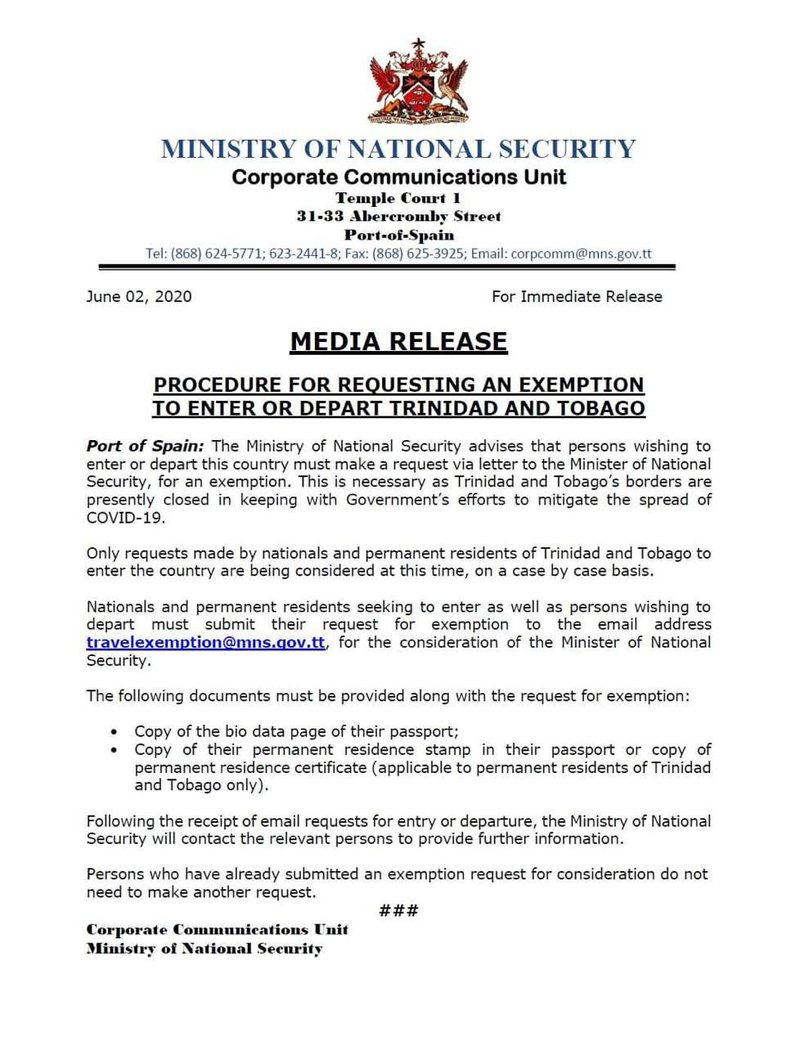 ---
There may be several Trinidad and Tobago nationals currently visiting the United States of America who are unable to return to Trinidad and Tobago or travel to any other country due to the current COVID-19 Pandemic.  Consequently they may have already exceeded or are about to exceed their authorized period of admission to the USA.
For nationals who are facing such a situation, please visit the following webpage of the U.S. Citizenship and Immigration Services for pertinent information which should assist you:

https://www.uscis.gov/news/alerts/covid-19-delays-extensionchange-status-filings

Consul General
---
The Consulate General of the Republic of Trinidad and Tobago in New York first opened its doors in November 1970 and has functioned continuously since that year.

The Consulate General is currently located at 125, Maiden Lane, 4th Floor, New York, NY 10038, and is open Monday to Friday from 8:00 am to 2:00 pm for Immigration and Administrative Services.  The Consulate General is closed on certain Trinidad and Tobago and USA holidays.  Please check the list of holidays on this page.

The Consulate General in New York exercises consular jurisdiction in the following states of the eastern seaboard of the United States of America – Connecticut, Maine, Massachusetts, New Hampshire, New Jersey, New York, Pennsylvania, Rhode Island and Vermont.  All of the other states are covered by our Embassy in Washington, D.C. and the Consulate General in Miami.
The primary role and function of this office is to manage consular relations between Trinidad and Tobago and the US States to which the Consulate General is accredited to.  These include, inter alia:
Providing services to citizens of Trinidad and Tobago resident in the area of its jurisdiction;
Providing services and information to non-citizens interested in visiting, studying, working, doing business or investing in Trinidad and Tobago;
Promoting the interests of Trinidad and Tobago, including culture, tourism, commerce, education and trade and investment, and developing mutually beneficial relationships in these and other strategic areas;
Engaging and empowering the Trinidad and Tobago diaspora.
The Consulate General liaises with the Ministry of Foreign and CARICOM Affairs, other Government Departments, public and private sector institutions and entities in Trinidad and Tobago, public and private sector organizations and diaspora groups in New York City and the nine (9) states in its jurisdiction to execute its functions.

The Consulate General's clientele includes citizens of Trinidad and Tobago resident in its area of jurisdiction as well as travelers from Trinidad and Tobago, foreign citizens seeking interaction with Trinidad and Tobago, American individuals and corporate entities as well as New York City, State and other government officials.

---
General Information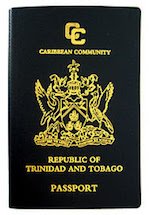 Click here to check your Passport Application Status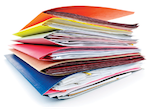 Click here to check your Documents Status
---
Guidelines and Forms for Applications and Renewals

Please select a form based on your requirement


General
Consulate General New York List of Public Holidays 2020
All fees paid are non-refundable.

Immigration Services
The Consulate General of the Republic of Trinidad and Tobago, New York advises that with effect from Thursday October 24, 2019, applicants for first time Machine Readable Passports must request an appointment for submission of their applications".  In other words, an applicant who has never been the holder of a Machine Readable Passport must contact the Consulate General to schedule the required interview by emailing their request to: cgnyvcimmigration@foreign.gov.tt , or calling: 1-212-682-7272 ext. 1136.
Adult Passport Application Instruction - FIRST TIME MRP
Adult Passport Form
Child Passport Application Instructions
Child Passport Form
Consent Authorization Letter (Minor)
Emergency Travel Document Form
Emergency Travel Document Guidelines
MRP Application Instructions - AT THE CONSULATE
MRP Application Instructions - VIA MAIL
MRP Application Renewal Form (MRP)
Notification Form for a Lost-Stolen-Mutilated T&T Passport
Renunciation Of Citizenship
Restoration of Citizenship Guidelines
Third Party Authorisation - Machine Readable Passport (MRP)
Verification of Identity of Applicant
Visa Requirements
Administrative Services

Adoption Certificate
Apostille
Birth Certificate Application 
Certificate of Character
Certificate of Non Impediment
Correction of Error Guidlines
Cremated Remains Accompanied and Sample Letter
Cremated Remains Un-Accompanied
Death Certificate Application
General Assistance for Nationals
Human Remains
Marriage Certificate
Notary Public-Certified Guidlines
Pensioner Information Form
Sample Funeral Director Statement
Third Party Authorisation - Other Services
Transmission of Documents
Verification of Medical Practitioner


---
Vacancies at the Consulate General in New York, U.S.A.
No vacancies at this time.
---

The Consul General

Previous Consuls General include:

    Dr. Rudrawatee Nan Ramgoolam 2011 - 2015
    Dr. Harold Robertson 2004 - 2010
    Mr. Terrence Walker 1998 - 2004
    Mr. George McKenzie 1995 - 1998
    Mr. Learie Rousseau 1990 - 1995
    Mr. Babooram Rambissoon 1982 - 1990
    Ms. Shastri Ali 1981 - 1982
    Mr. Muhmad S. Dean Aziz 1978 - 1980
    Mr. Joseph Cooper 1974 - 1978
    Mr. Cecil Alleyne 1973 - 1974
    Mr. Wilfred S. Naimool 1970 - 1973
---
News
July 31 2019 - Emancipation Day Message from the Consulate
https://foreign.gov.tt/documents/761/Emancipation_Day_2019.pdf
---
Indian Arrival Day Message from the Consulate
Please be advised that this is the official website for the Consulate General of the Republic of Trinidad and Tobago in New York.
---
Contact Information

Consulate General of the Republic of Trinidad and Tobago, New York 
J. André Laveau, Consul General
Address: 125 Maiden Lane, 4th Floor
New York, N.Y. 10038
Country: United States
Phone: 1-212-682-7272
Fax: 1-212-232-0368
Email:  cgnyconsulateinfo@foreign.gov.tt
Website: http://foreign.gov.tt/cgnewyork
Hours of operation:
8:00am-2:00pm  - Immigration Services
8:00am-2:00pm  - Administrative Services
8:00am-4:00pm  - Telephone Queries
NEW Hours of operation for the public from 3rd January. 2017: 
Monday to Friday (except 1st & 3rd Thursday of the month)
8:00am-2:00pm  - Immigration & Administrative Services
8:00am-4:00pm  - Telephone Queries 
1st and 3rd Thursday of every month
8:00am-12:00pm  - Immigration & Administrative Services
8:00am-4:00pm    - Telephone Queries