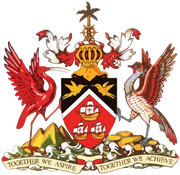 Coat of Arms
The Coat of Arms of Trinidad and Tobago was designed in 1962, by a committee of distinguished citizens established to select and design the country's national emblems. Committee members included noted artist Carlyle Chang and Carnival Designer George Bailey. The Coat of Arms incorporates important historical and indigenous elements of Trinidad and Tobago. They are: The Shield, The Helm of special design, the Mantle which covers the Helm, the Wreath to hold the Mantle in place, the Crest, the Supports and the Motto.
At the top is the Crest - a ship's wheel in gold in front of a fruited coconut palm. This palm had always been the central figure on the Great Seals of British Colonial Tobago. Beneath the wheel is the wreath which holds the mantle in place. The Helm is a gold helmet facing front which represents the Queen. The devices on the Shield are the two humming birds. The three gold ships represent the Trinity - the discovery of the islands and the three ships of Columbus; the sea that brought our people together; and the commerce and wealth of our country. The colours of the National Flag are displayed on the Shield.
The Supporters are a Scarlet Ibis (the national bird of Trinidad) on the left and, a Cocrico (the national bird of Tobago) on the right. Both are shown in their natural colours. The Three Peaks commemorated both Columbus' decision to name Trinidad after the Blessed Trinity and the three Peaks of the Southern mountain range, called the "Three Sisters" on the horizon. Inscribed on the motto scroll are the words: "Together we aspire; together we achieve," which speaks for itself and promotes harmony in diversity for national achievement.