Consulate General in Miami, U.S.A.
---
About Us


---
Apply for TTravel Pass to enter Trinidad and Tobago

---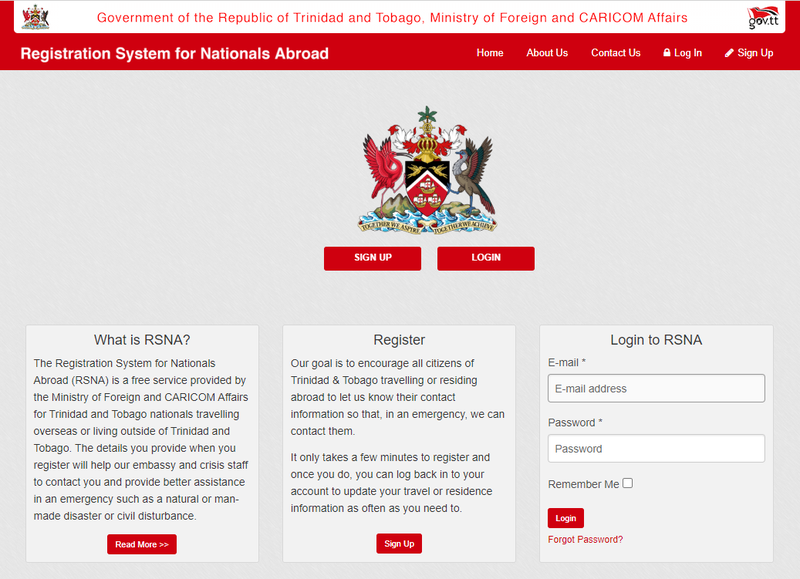 REGISTRATION SYSTEM FOR NATIONALS ABROAD (RSNA)
The Registration System for Nationals Abroad (RSNA) is a free service provided by the Ministry of Foreign and CARICOM Affairs for Trinidad and Tobago nationals travelling overseas or living outside of Trinidad and Tobago. The details you provide when you register will help our embassy and crisis staff to contact you and provide better assistance in an emergency such as a natural or man-made disaster or civil disturbance.
Trinidad and Tobago nationals travelling or residing abroad should register at the nearest Trinidad and Tobago Overseas Mission, particularly in countries with a risk of natural disasters or which are undergoing a period of unrest. The purpose of this register is to enable the Mission to identify and locate nationals in cases of emergency as well as provide assistance for nationals in situations of need. 
Given the current operations of the High Commission, nationals are urged to register via the website link register.foreign.gov.tt
---
The Consulate General in Miami exercises Consular Jurisdiction in the following states of the United States of America:- Alabama, Florida, Georgia, Kentucky, Louisiana, Mississippi, North Carolina, South Carolina Tennessee and Texas. All of the other states of the United States are covered by our Embassy in Washington, D.C. and the Consulate General in New York.
---
Contact Information
Consulate General of the Republic of Trinidad and Tobago, Miami

Ms. Joanne Brooks, Consul General
Address: 1000 Brickell Avenue
Suite 800
Miami Fl 33131-3047
Country: United States
Phone: 1-305-374-2199
Fax: 1-305-374-3199
Email: consulatemiami@foreign.gov.tt
Website: http://foreign.gov.tt/cgmiami

Consulate General's Office Hours
Monday - Friday
9.00 a.m. - 5 p.m.

Immigration Office Hours
Monday - Friday
9:30 a.m. - 2:30 p.m.

Passports may be collected:
Monday - Friday
9:30 a.m. - 2:30 p.m.


---
Vacancy Notice
Check our main vacancy page here.
---
Application Forms and Documents
PASSPORTS
Adults over 16 years:
Applicant Checklist and Application Form for First Issue of Machine Readable Passport
Applicant Checklist and Application Form for Renewal of Machine Readable Passport

Children 16 Years and Under:
Applicant Checklist and Application Form for First Issue of Machine Readable Passport
Guidelines and Notification Form for Replacement of Lost/Stolen/Mutilated Passport

---
EMERGENCY TRAVEL DOCUMENT
Instructions and Application Form for Emergency Travel Document
---
VISAS
Checklist, Instructions, General Information and Application Form for VISA Application
---
CITIZENSHIP AND IMMIGRATION STATUS

Application Form for Restoration of Trinidad and Tobago Citizenship
Documents required for Declaration of Renunciation of Trinidad and Tobago Citizenship
Certificate of Immigration Status — General Requirements
Application for Certification of Immigration/Citizenship in TT
Application Form for Certification of Immigration/Citizenship in Trinidad and Tobago
---
PENSIONS AND NIS
Pensioner and NIS Benefit Information
---
BIRTH CERTIFICATES
First Issue:
Instructions and Application Form for Free Computerized Birth Certificate
Second or more Issue:
Instructions and Application Form for Paid Computerized Birth Certificate
---
MARRIAGE CERTIFICATES
Instructions and Application Form for Computerized Marriage
---
ADOPTION CERTIFICATES
Instructions and Application Form for Computerized Adoption Certificate
---
DEATH CERTIFICATES

Instructions and Application Form for Computerized Death Certificate
---
HUMAN REMAINS AND CREMATED REMAINS

Documents Required for the Importation of Human Remains to Trinidad and Tobago
Documents Required for the Repatriation of Cremated Remains to Trinidad and Tobago
---
General Information